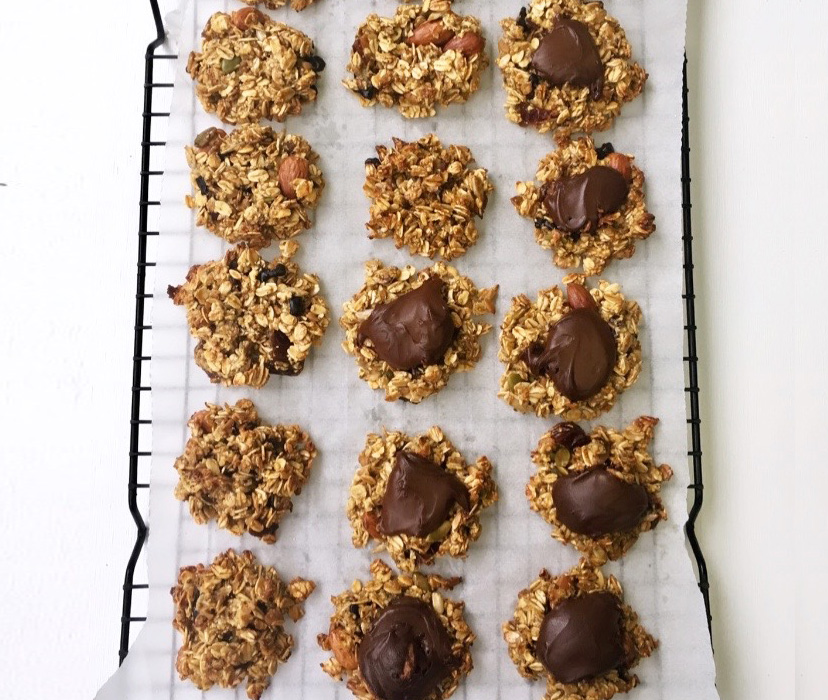 February 5, 2020
There is nothing quite like a fresh batch of cookies to warm the soul! And to celebrate World Nutella Day – my favourite Nutella inspired cookie recipe is here!
You will need:
For the base cookie:
1 1/2 cups of muesli (I used Sunsol muesli)
1/2 cup rolled oats
3 dates, pitted and finely chopped
3 eggs, whisked
1 tsp vanilla essence
4 tbsp lupin crumbs (optional)
Nutella (I used Nuttvia hazelnut spread)
1. Preheat oven to 180C and line an oven tray with baking paper.
Prepare the cookies:
2. Crack eggs into a small bowl, whisk lightly.
3. Combine all the remaining ingredients into a large bowl, add eggs and mix until evenly combined.
4. Roll mixture into balls, place on the tray and flatten using either your hand or a fork.
5. Bake for 5 minutes, remove from the oven and let cool slightly.
6. Using your thumb, make a small hole in the middle of the cookie and add 1 tsp of Nutella/hazelnut spread to the centre of the biscuits.
7. Bake for an extra 5 mins or until golden brown.
8. Set aside and let cool.
Enjoy x
---
Notes:
Recipe makes ~12 cookies
I get my lupin crumbs from https://www.lupinsforlife.com.au/products/crumb
Variations:
Chia jam: You will need: 2 cups of frozen berries, 2 tbsp of chia seeds & 1 drizzle of maple syrup (optional). To prepare chia jam: Add berries to a saucepan and cook until soft. Once soft, remove from the heat and add the chia seeds. Stir until jam thickens and set aside. At step 7 add the chia jam to the centre of the biscuits.
Original muesli: Follow steps 1-4 and bake cookies for 10 mins.
Ready to take the first step? Get in touch via email aleisha@addietitian.com or phone 0422 288 565.