Available online & Australia wide

Fertility
Improve your chances of getting pregnant & having a healthy baby
Conditions: endometriosis, PCOS, insulin resistance, thyroid, weight management
Cycle health: irregular or absent periods
Boost egg & sperm health
Tailored supplement plans
Strengthen outcomes for fertility treatments/IVF 

Pregnancy
Support each trimester & minimise your risk of pregnancy complications
Trimester specific nutrition 
Tailored supplement plans
Nausea & vomiting 
Food safety in pregnancy
Constipation and reflux
Healthy weight gain in pregnancy

Postpartum
Support healing & recovery & thrive through your fourth trimester
Meeting increased nutritional needs
Nutrition for healing & repair
Nutrition for breastfeeding
Navigating fatigue & boosting energy levels
Postpartum supplements
Weight management 
Here at Aleisha Deane Dietitian I help women nourish their bodies through fertility, pregnancy & postpartum to give their babies the best start in life.
STAY CONNECTED WITH SOCIALS
Connect with me on instagram @aleishadeane.dietitian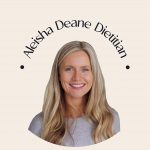 Aleisha
Certified Fertility & Prenatal Dietitian
Want to more about how I can help you? Fill in your details below and I will reach out to you.