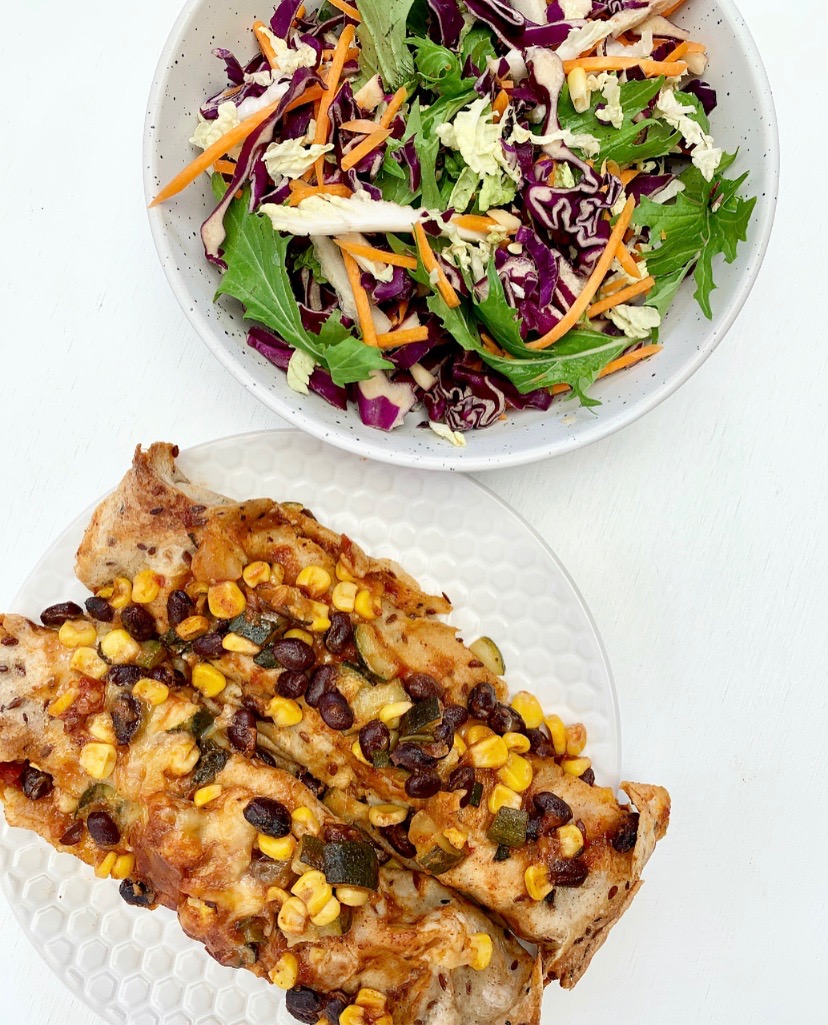 February 9, 2020
In celebration of World Pulses Day – this recipe will help you get more pulses on your plate! Packed full of plant based proteins, fibre and flavour -this is a recipe the whole family will love!
You will need:
1 x packet of wholegrain wraps
3 tbsp onion, diced (fresh or frozen)
2 large zucchinis, diced
1 large handful of spinach, chopped
1 x can of black beans, rinsed and drained
1 x can of corn, rinsed and drained
1 x jar of enchilada sauce
1/2 block of feta, crumbled or 1 cup grated cheese
Extra virgin olive oil or spray (for cooking)
---
Steps:
1. Preheat oven to 180C and lightly grease a baking dish.
2. Over medium heat, lightly char the corn and set aside.
3. Add the onion and zucchini to the pan and cook until browned
4. Rinse and drain the black beans and add to the pan.
5. Add spinach and sauce and mix until combined.
6. Take off the heat and add cheese, stir through.
7. Add 2-3 tbsp of the mixture to a wrap, roll up and place fold side down in baking dish. Repeat with remaining wraps until all the mixture is used.
8. Top wraps with remaining mix.
9. Cook for 20 minutes or until lightly browned.
---
Notes:
Recipe serves 4

I used Simson's Pantry http://www.simsonspantry.com.au/our-range wraps (4 seeds and wholegrain super barley) 

Step 2 – charring the corn is optional (if you want a quicker version – just add the corn with the beans at step 4)

This recipe is so versatile – here are two of my favourite variations using the base mix!

Variations: 


1. Nachos –Follow steps 1-6 and serve with corn chips. Top with your favourites – we love avocado and plain greek yoghurt!
2. Quesadillas – Follow steps 1-6. Sandwich mixture between two wraps and toast in a sandwich press! We love to serve ours with a side salad!
Ready to take the first step? Contact me via email aleisha@addietitian.com or phone 0422 288 565.